Wholeale VEVOR 1050W Rotary Hammer Drill Max Drilling 17mm SDS Plus Demolition Jackhammer Breaker DIY Electric Wood Concrete Perforator
... people are viewing this right now
---
Product Description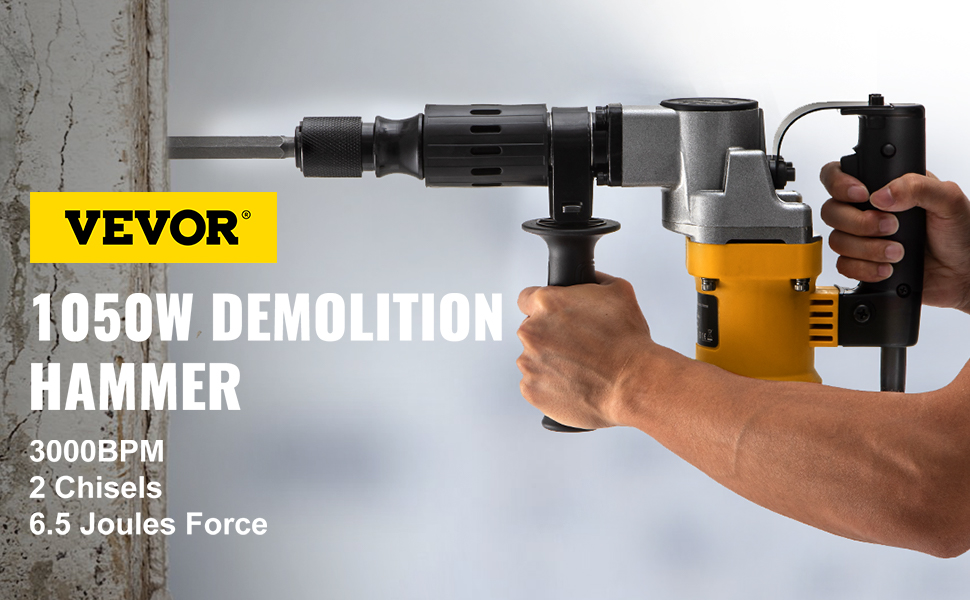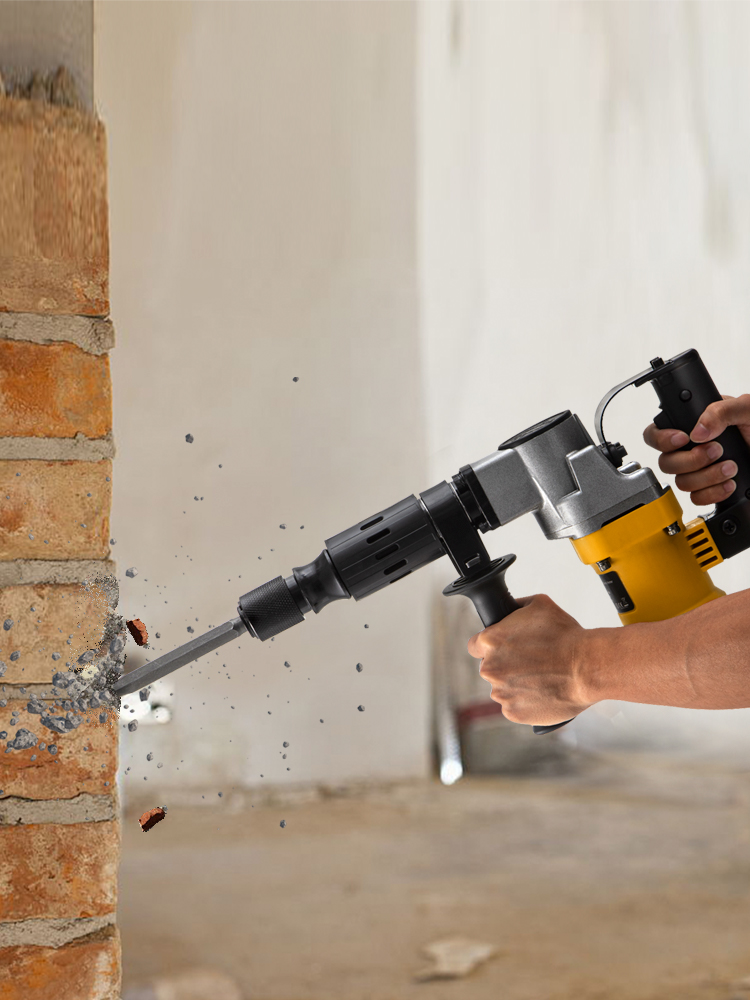 Electric Demolition Hammer
9.5 Amp Industrial Motor & 6.5 Joules & SDS-Plus Chuck
Whether you are a professional worker or a DIY user, VEVOR electric jackhammer is your wise choice. It is an excellent tool for individuals working on demolishing, chipping, crushing, scraping, driving ground rods, and breaking through concrete.
1050W Powerful Motor
Practical Chisels & Grip
360° Flexible Swivel Handle
Details for Security & Ease
Tough Equipment & Tools, Pay Less
VEVOR is a leading brand that specializes in equipment and tools. Along with thousands of motivated employees, VEVOR is dedicated to providing our customers with tough equipment & tools at incredibly low prices. Today, VEVOR's products are sold in more than 200 countries and regions with 10 million plus members worldwide.
Why Choose VEVOR?
Premium Tough Quality
Incredibly Low Prices
Fast & Secure Delivery
30-Day Free Returns
24/7 Attentive Service
Key Features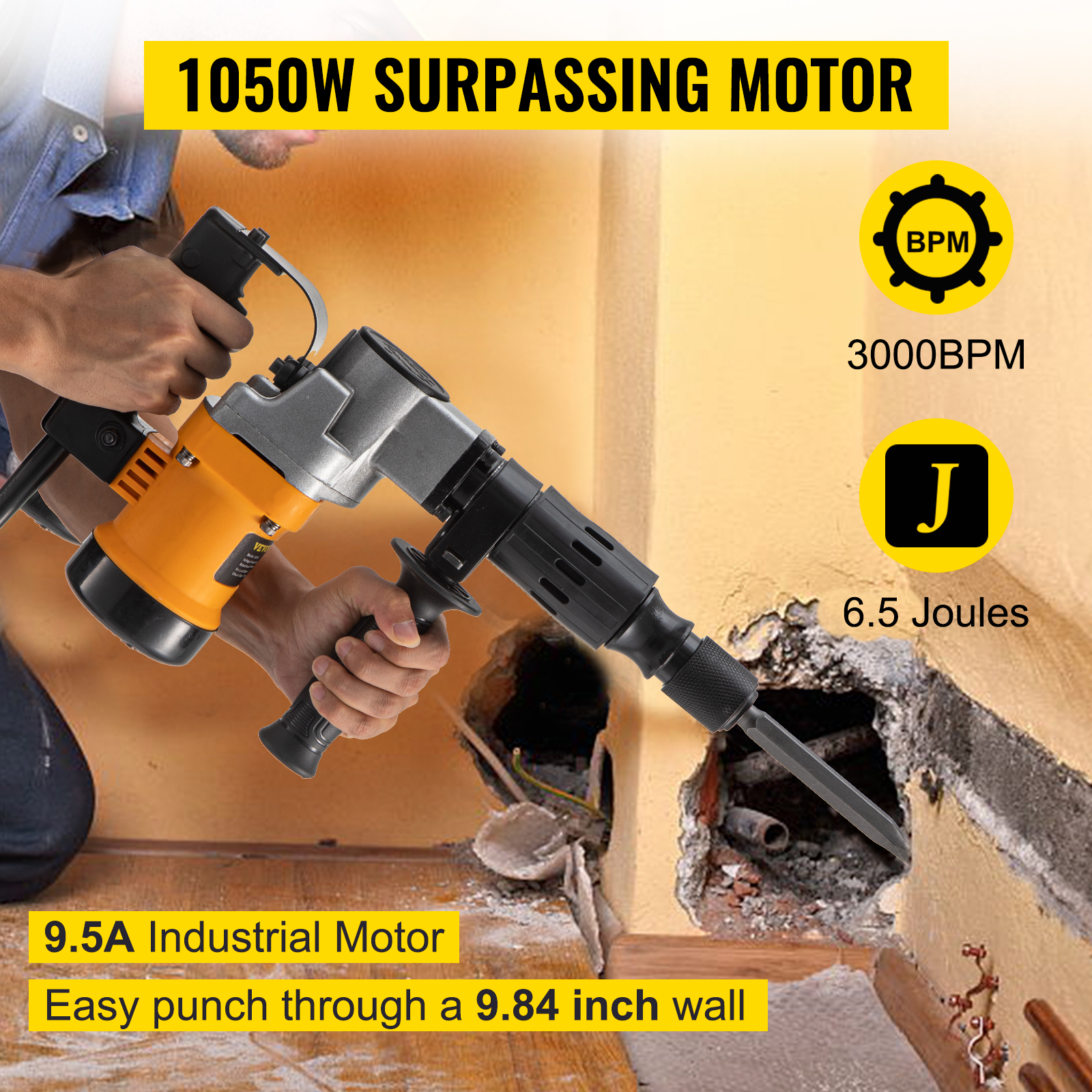 1050W Surpassing Motor
1050W motor with a self-locking switch is designed to complete heavy-duty work efficiently and securely. The 6.5 joules impact rate of hammer drill helps you to finish your work on demolishing blocks, brick.
Two Chisels & One Handle
Two chisels are lying in the package. They are easy to be replaced and will never drop accidentally after being clamped. The extra handle grip is included for unexpected needs.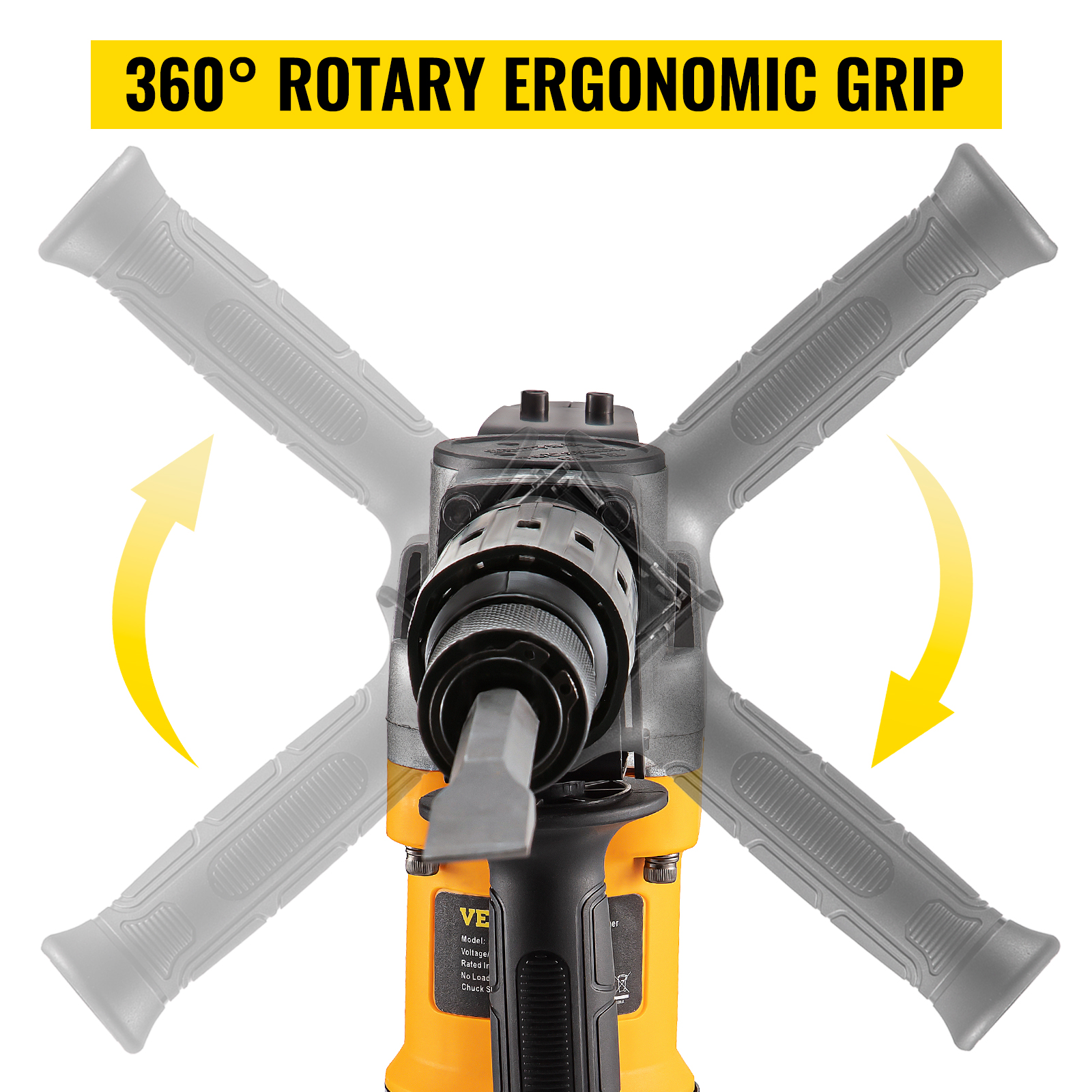 360° Rotary Ergonomic Grip
The auxiliary handle of rotary hammer is designed to reduce your fatigue during longtime work. It provides accurate and convenient strikes in some relatively narrow places.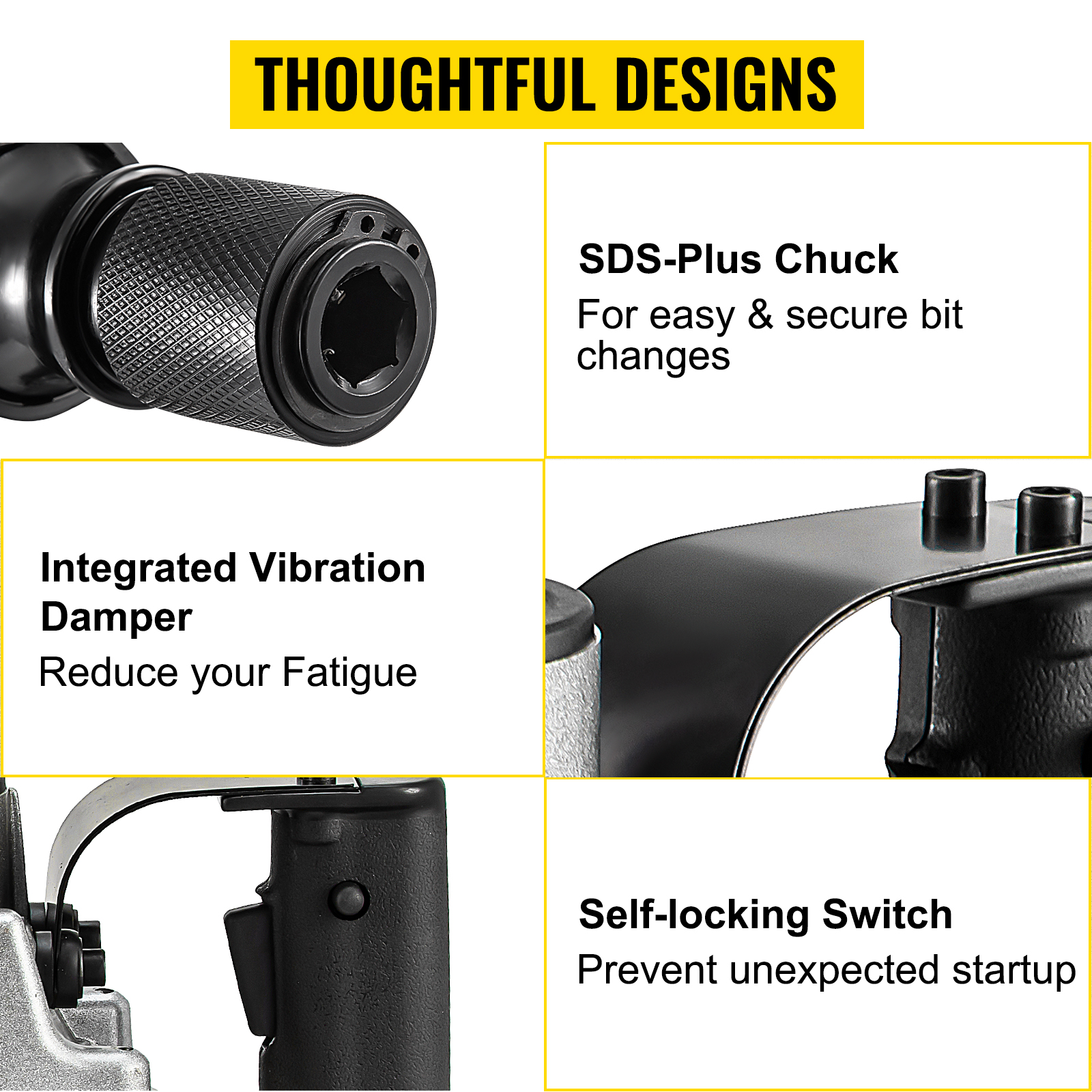 Thoughtful Designs
SDS-Plus chuck is designed to improve your work efficiency. The vibration damping technology effectively reduces injury during working. In addition, the self-locking switch is designed to complete heavy-duty work quickly and securely.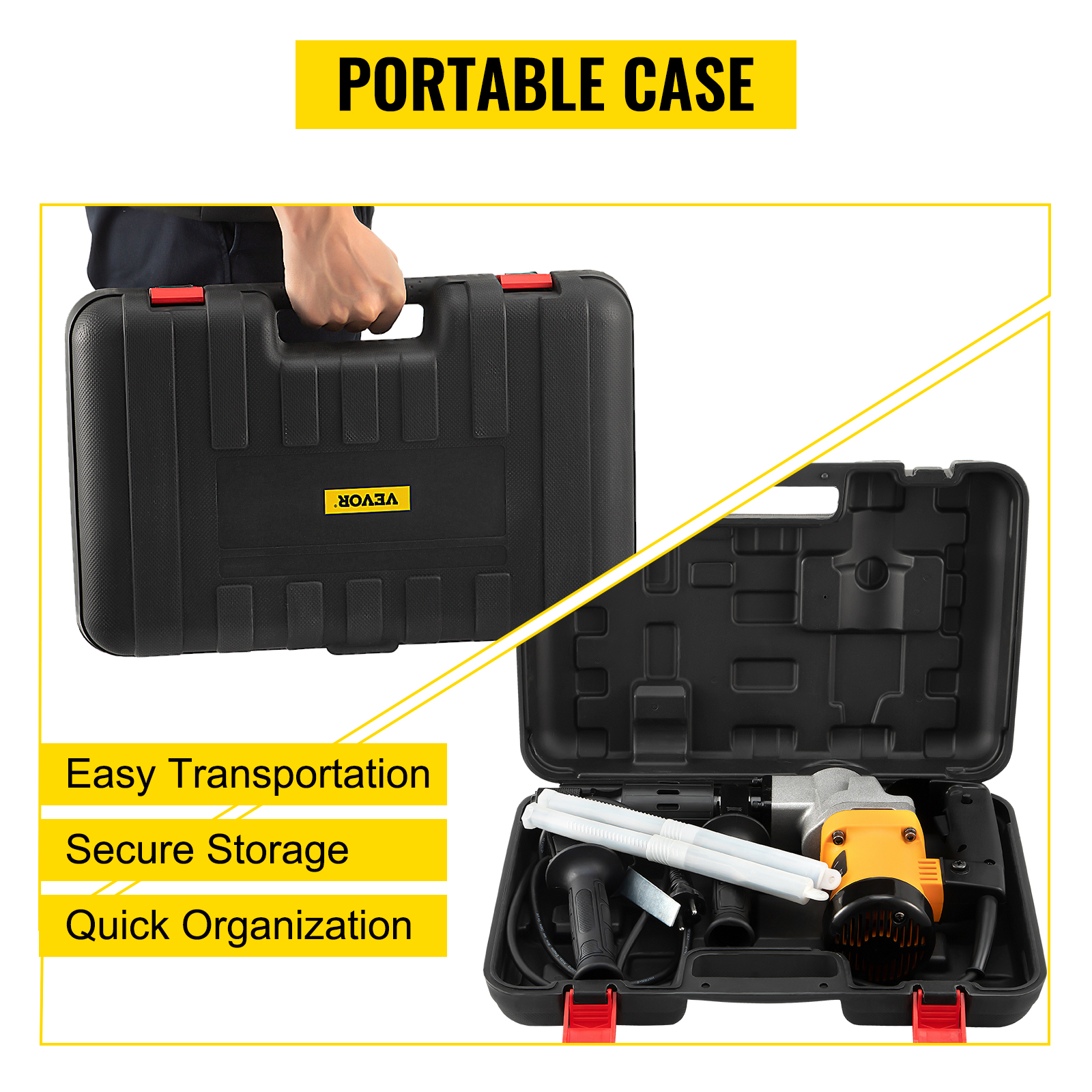 Portable Case
Heavy-Duty impact storage case provides additional protection for tools. Blow-molded housing is designed with handles to offer easy transportation and reliable storage of equipment.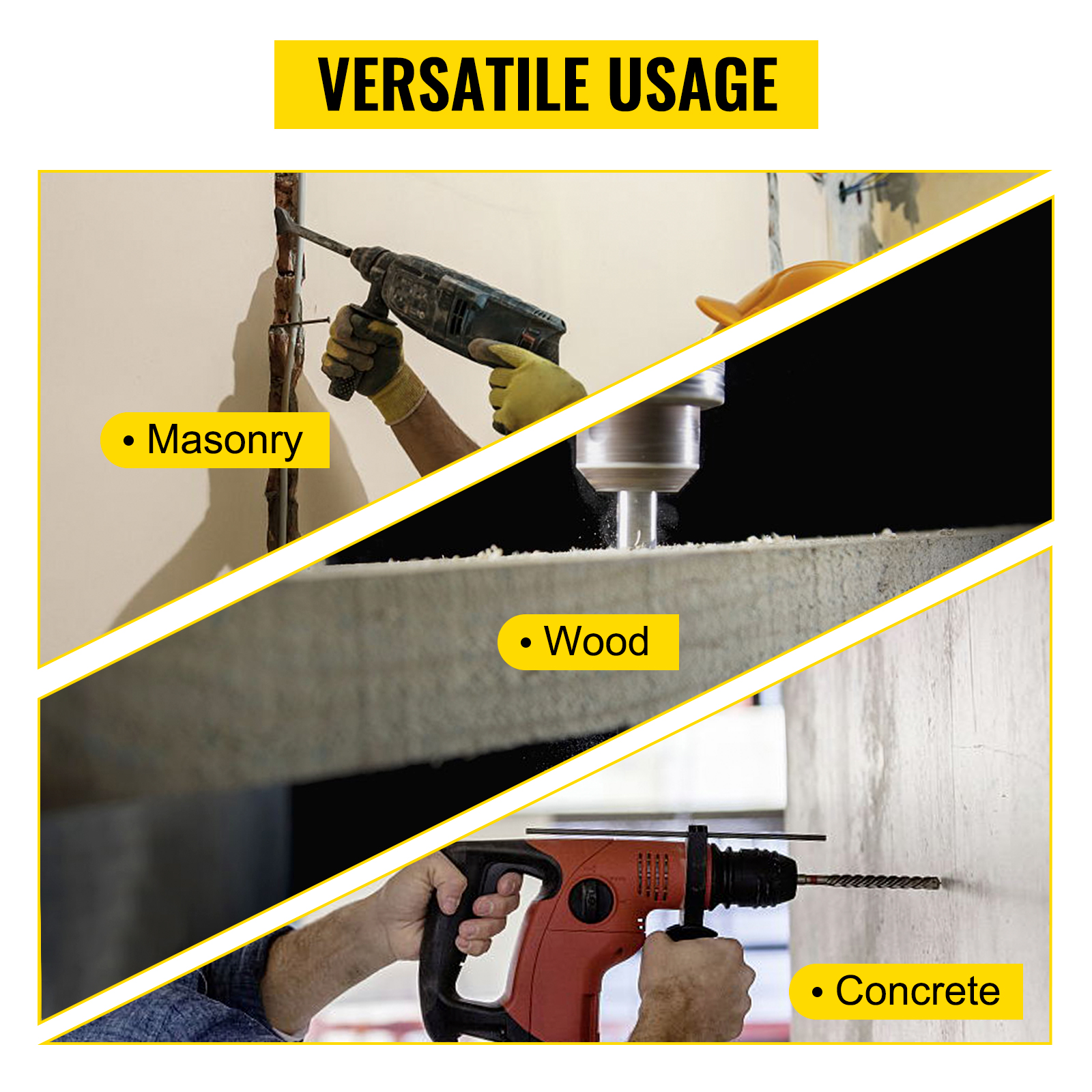 Versatile Usage
Our rotary hammer drill is an ideal tool for demolition, trenching, chipping, breaking holes in concrete, block, brick, wood, etc. The jackhammer is pretty suitable for plumbing, mechanical installation, interior decoration, and other construction projects.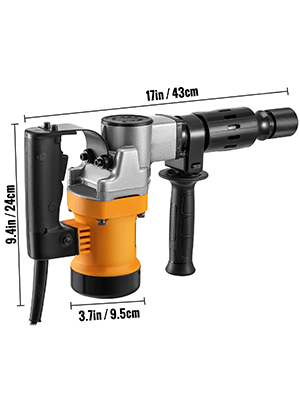 Specifications
Model: VV-DH-1050
Power Type: Corded-electric
Voltage: 110V, 50HZ
Chuck: SDS-plus
Motor Power: 1050W, 9.5A
Full-load Impact Rate: 3000BPM
Flat Chisel: 11″ x 0.87″
Point Chisel: 11″ x 0.87″
Impact Force: 4.8 feet/lbs (6.5 joules)
Max Drilling Diameter: 0.67″
Item Size:17″ x 9.4″ x 3.7″
Item Weight: 9.6Kg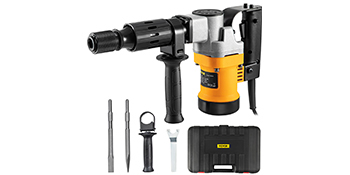 Package Content
1 x Flat Chisel
1 x Point Chisel
1 x 360° Adjustable Handle
1 x Wrench
1 x Case
2 x Carbon Brushes
1 x Menu